My TPN Experience and the Steps I Take to Start a TPN Feeding Cycle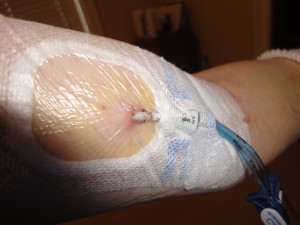 First I was given a PICC line, double lumen and was also a power picc meaning it could be used for contrast injection for CT scans. Double lumen was nice as I could stay on TPN while medicine was taken or blood was drawn (with TPN turned off but still attached mind you – too many times was it still running and I'd get frantic calls back telling me my glucose levels were over 700). They could also put me on fluids while TPN was running through the other line. They could have me hooked up to a whole bunch of things at once without one single needle poke, and well, they did.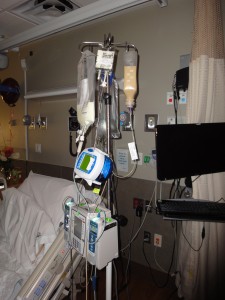 It worked out pretty well until I got home, where I quickly learned that a PICC line was not for me…
Exhibit A + Exhibit B = Exhibit C and Exhibit D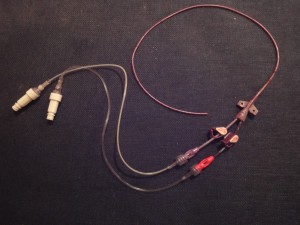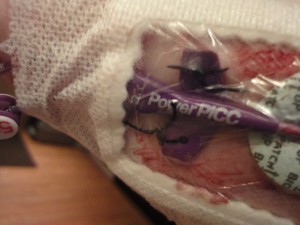 Before figuring out what was going to happen with my PICC line and how long I'd be on TPN, I needed to talk with my doctors. I was informed that I could no longer be fitted for feeding tubes as there is no more space in my small abdomen for placement and they also cause me pain. With this in mind, I will be on TPN indefinitely in some form or another for all or supplemental nutrition for a good portion of my life. If this is the case, PICC lines dangling down from my arm for Ellie to pull on and to stop me from fully using my arm to climb or any other physical activity wasn't going to cut it. I asked for a portacath.
The power port is surgically placed under the skin (usually sutured into the chest wall) by a doctor, surgeon, interventional radiologist, certified nurse with the use of fluoroscopy and xray to make sure the position of the catheter is placed correctly (the tip of the catheter being right above the superior vena cava of the heart).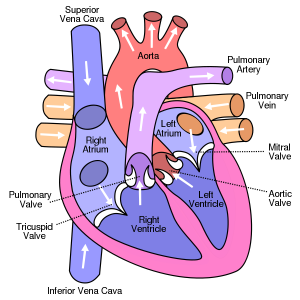 Mine was placed by an interventional radiologist with sedation and I was sent home later that day to relax. My TV junkie Berner puppy can be seen below. She's great company when you're sick, especially if TV is involved. She wouldn't even look at the camera until commercials. *shakes head*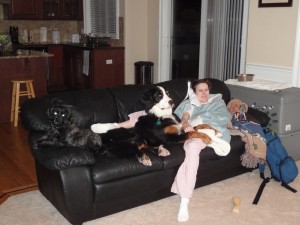 It was very sore, I won't lie. Ice packs were my friend. Sadly they would not access my port to start tpn, without orders from my doctor, while I was still sedated, so later that evening it was accessed with a needle to a very freshly closed wound. It has gotten considerably easier though. I am almost one month out. I've had setbacks with it. My chest is very sensitive to all the dressings and I have broken out in a horrible horrible painful rash each time it was changed, but I think it is under control now. All I use now is plain Tegaderm with gauze under the wings of the needle to stabilize it.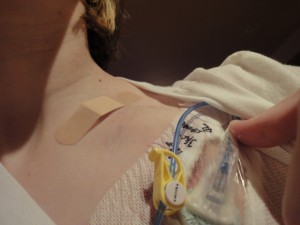 So far TPN seems to be going well. I'm pretty much NPO (nothing by mouth), but will munch on something if I feel like it or take in some juice. I've been able to cycle down the time I'm hooked up to TPN to 12 hours at night so that I can be pretty much free during the day. Even without food intake, I get stomach pains – err, abdominal pains and this has stumped all of my doctors. I see a pain specialist at the end of next month. Until then, I'll make do with what I have available and try to stay out of the ER!
I am not permitted to change the dressing of my port on my own or the line either. I have a home care nurse come to my house every Monday who checks vitals, draws blood (full panel), and changes dressings and needles. I, however, am responsible for starting and finishing my own TPN bags, which, I must say, I have become quite good at!
Also, doctors, parents, friends, and children please remember to always be washing your hands while around other people!
Steps I take to set up my TPN bag and start a feeding session –>