After I returned home, as I predicted, I got a little sick, dehydrated and had a few ER trips. But, I'm feeling much better now and am ready to unveil my ultimate TSA and traveling wisdom! I want to thank Sea-tac mostly for being very understanding and seemingly educated on all my equipment and medical needs. Perhaps it is due to the GP awareness that stands out here in Washington, and the amount of them just going through the airports, or maybe it is because of the amazing people at G-Pact making their rounds with TSA and other government run agencies that will ultimately need to deal with medical equipment and the people that use them. I don't know, but I had a very easy and enjoyable time getting through the checkpoints at Sea-tac even with my service dog, Ellie. Regardless, here is a list of things I recommend when travelling with any sort of feeding set up or require special attention at checkpoints or at the gate.
Make sure to visit each of your doctors within two weeks before your flight to make sure you are healthy enough for the trip and to have all your medications filled so you don't run out while you are away
Print out and complete the Travel packets found on the Oley site (download the whole packet so you can fill it in on your computer if you want and discard the info that isn't important for you)
Have your doctor sign the documents you printed out (I printed out 4 copies – 1 for me, 1 for each airport, and 1 for the hospital should I need to be seen while away)
Call ahead and have your TPN or Formula and all your supplies for the time you'll be away, shipped to your destination. It eliminates the fear of forgetting something important. Most companies have offices around the country and can easily ship to anywhere you go, even out of the country. Make sure you know the exact date your shipment of supplies will arrive at your destination and that there will be someone there to take care of it. I know my TPN had to be taken immediately to the fridge as Arizona is HOT outside and will kill my TPN if not taken care of properly.
Check-in online 24 hours before your flight so you can change seats, trying to get one with more leg room
At check-in (checking baggage or not, I did) ask for an escort pass – I had my husband, and my parents on the way back, escort me through the checkpoints as it made it easier for them to keep an eye on my things (and my dog) as I was taken aside and patted down
Tell TSA everything you have before even starting the pat down. Some, it will be their first encounter with your setup.
GO THROUGH THE CHECK POINTS HOOKED UP TO YOUR FEEDS, it just makes it easier for them to believe you and be comfortable with everything
They will swipe down all of your things that cannot go through the scanner (pump, backpack, medical supplies, formula) and make sure there is no bomb residue on it
Your escorts can go straight through to the gate if you want. I find having people there helps with the anxiety. It was my first attempt to fly since the rules were changed last December.
If travelling with a service dog, like I did, tell the flight attendants before you board to make sure your seat will be good enough for a service dog (Sea-tac kept the seat next to me open – I opted for the isle seat – so that my dog would have more room when they learned of my service dog…again, Sea-tac is amazing)
I think that is all. If I remember anything else, I'll be sure to update the list. But this is what I did to prepare for my short little 3 day weekend trip. I was also travelling with my service dog, so I had to make sure she was up-to-date with all her shots and had enough food, treats and whatnot. It was all a huge learning experience. Here are a few pictures from the trip =) Our next big trip will be for my sister's wedding in December. That trip will be much longer (2 weeks) since it will also include Christmas! Yikes! I'm still debating on whether or not my Ellie will come or not =)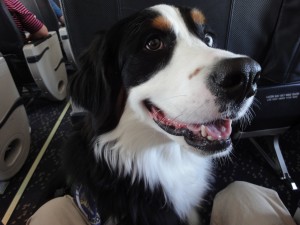 Ellie at my feet on her first airplane ride; she did amazing!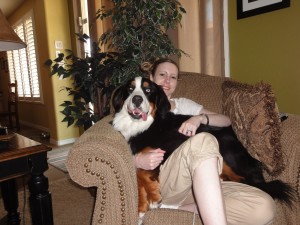 She was super shy at first; we weren't there long enough for her to get used to all the other dogs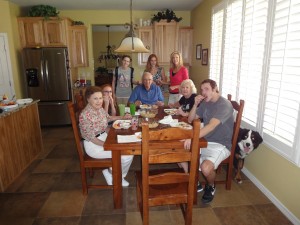 Always good to meet up with family; I miss them so much!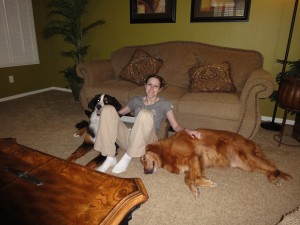 Catching up with my first dog Riley who I got when I was 16. Ellie I got when I was 26. Amazing creatures and best friends =)