Friday was an unfortunate day as it ended in me having to go to the ER, once again, for a grand-mal seizure. Tonic–clonic seizures (formerly known as grand mal seizures or gran mal seizures) are a type of generalized seizure that affects the entire brain (see Wikipedia for more information). At first it was thought, from my first one, to be medication induced, resulting from lack of Ativan in my system. But this seizure was much different in that I had just taken all my medication prior to my seizure, and while running low on Ativan, I was not out of Ativan. The only change in medication was when I went to the ER earlier that day (yes, I ended up back in the same ER following my seizure within 24 hours of my initial visit this week).
I find it difficult to understand how an RN can "forget" that Imitrex (Sumatriptan) is only found in INJECTION form, not IV form for one very important reason: it can stop the heart. I have survived 3-4 IV injected Imitrex situations out of pure luck but this one was not to be without problems. It could have very well lowered my seizure threshhold, which apparently isn't very high to begin with due to my chronic problems as well as the vast amount of maintenance medications I am on, to the point where my other medications (oxycodone or whatever) were able to trigger the seizure when normally, they don't.
This one was different, also, in the fact that I was alone in the room (kitchen) preparing my TPN bag after taking my nighttime medications, when it happened. I was standing instead of sitting in my chair, like I was the first time, which caused way more issues. From the pain and swelling, I figure during the seizure I hit my chin on the way down and ricocheted off the refrigerator a few times with my head and then finally landed on the floor. Of course the noise was loud enough to call my husband from clear across, on the other side of the house. Because we told him how well he did handling my last seizure, not 3 months ago, he considers himself an expert (I would never wish anyone an expert on handling seizures!) and did not feel it necessary to alert the paramedics with a call to 911, like he did last time. Too bad too; I wouldn't mind saying hi to my neighborhood paramedics. They are great guys!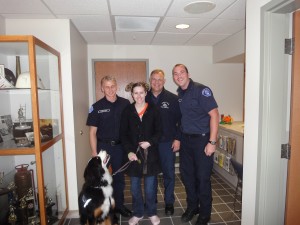 He simply held me up so as not to hit my head on the hard floor again, turned me on my side to allow fluid to come out of my mouth, and then waited for me to finish shaking. Afterwards we headed to my favorite ER and had a CT scan (I'm not allowed MRIs because of my neurostimulator and portacath).
I was not given a blood test; in fact, they didn't give me anything by IV while there. I should have received a blood test. As if I could not make it easier on them, I have an accessed portacath from which blood flows freely when needed (I'm a hard stick now that my veins have shrunk; I make it a point to have them ALWAYS draw blood and give fluid through it). I only worry about my blood tests because I have started to develop petechiae under my eyes. I've also been running low blood counts for the past month. If it was just under one eye, I could attribute it to the fall from my seizure, but I have them under both eyes and it is starting to spread from out under my eye to my ears and other areas on my face. Hopefully it will start to heal and stop spreading as that might indicate a bigger underlying disease. I'm not entirely ready for that quite yet (as if you can ever be ready…).
So that is what I got to do this weekend. I wanted to make it a better weekend than laying around trying to recover the energy lost during the seizure, so we headed out to the tulip festival. I'll wrap up this update with my favorite pictures from the day. I hope you are all enjoying your weekend and are having lots of happy tummy days~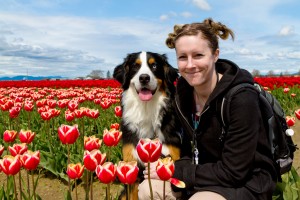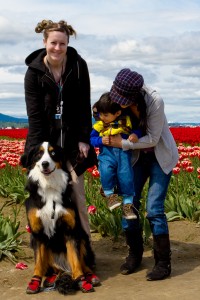 These people were only a few of the ones that asked to take pictures with Ellie and I. I found the question odd, as I would never go up to anyone else and ask for a picture with their dog, but to each their own!