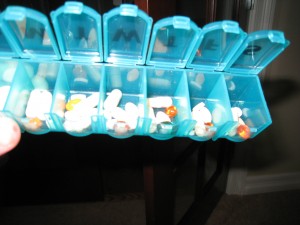 When it was first suspected that I might have a gastrointestinal disorder, they first did an EGD (upper endoscopy). It came back normal, besides a positive test for Barrett's Esophagus. Next, they did a Gastric Nuclear Imaging Scan – also known by many as the egg test. For this you eat eggs that are radioactive. Scans are done periodically (how often depends on the doctor ordering the scans and the facility doing the scans), mine done at 15 minute intervals for the first hour, every hour for 2 hours then again at the 4 hour mark. It doesn't hurt but is horrendously boring – if you are having this test done, bring something to entertain yourself (I suggest a laptop or DVD player)!
The test showed significant gastric emptying delay and was confirmed from that test, and the symtpoms of 24/7 nausea, distention, pain, early satiety and bloating, that I had gastroparesis. No one knows how I developed it, but it is hypothesized that I contracted a virus which ate away at my vagus nerve controlling my stomach, thus partially paralyzing it. I have idiopathic gastroparesis. Finally a diagnosis, but now what?
First round of motility drugs started, in hopes it would stimulate my stomach to empty. I was started on Reglan (metoclopramide), 4x a day 30 minutes before every meal and one before bed. Two days into this treatment and I had to stop. I developed severe anxiety and hand tremors (which I still experience a bit even today). This is because Reglan can cross the brain/blood barrier and mess with the nerves in the brain. Sometimes it can cause permanent Tardive Dyskinesia, something I feared I was developing. Some people, however, have a lot of success with Reglan and have taken it for many years without any issues. For me though, this unfortunately, was not the case.
After I got off Reglan, I was tried on Erythromycin. Erythromycin is actually an antibiotic but has a side-effect of increasing gastric and intestinal motility. Yeah, I got prescribed something for its side effect. Sadly, this also did not help me. A minor setback given that under my impression, Erythromycin can only be used as a temporary solution since the antibiotic often becomes ineffective as the body adapts to it.
My doctor offered a last hope for relief by medication, and that hope was called Domperidone. Domperidone is not available in the United States but can be ordered from other countries (usually Canada) if accompanied by a doctor prescription. The reason it isn't available in the United States is due to a slight side effect of tachycardia, or rapid heart rate, which could cause heart attacks. This is why your doctor may do periodic EKGs while taking Domperidone. Domperidone also takes awhile to kick in. I took it for 2 months without seeing any changes and therefore stopped the medication. Nothing seemed to work, and I continued to lose weight and feel sick. My doctor felt that surgery was the next step in controlling symptoms of my gastroparesis.
I did however have to remain on maintenance medications and here is a link to that silly dropdown menu some browsers have difficulty handling =)

Maintenance Medications