For a tube feeder, like myself, a backpack is a constant companion. This is especially true when a tube feeder is either a day feeder or feeds longer than just nights. It is important to find a backpack that is comfortable and has the capacity required for the tube feeder's needs. Most backpacks also require some modification to work well. These are the things I looked for when I went shopping for a new backpack after giving up on the one supplied to me:
Appearance: It needed to look good
Weight: It needed to be light when empty because I knew my supplies alone were heavy enough
Hydration Capacity: It needed to be able to hold my TPN (2L) plus more in case I needed to increase it down the road
Overall Capacity: I didn't want it to be too big but big enough to hold my everyday things so I wouldn't need an extra bag to carry around. This backpack would become my purse as well.
Hooks and Holes: It needed to have a way to hold up my TPN bag so that it didn't pinch at the bottom and it also needed a way for the tube to connect to the pump which would be in a different chamber of the backpack. It also had to have a way for the tube to exit the backpack in a reasonable spot where I could connect it to my port without it being too awkward
After much searching both on the internet and through stores, I finally found a backpack that fit all my needs! This backpack is by far the best I've come across. It is super light, the lightest hydration pack on the market so far, is very comfortable to wear (even 24/7), has a lot of room to expand if I need more space and has easy to access side pockets that can be secured with straps. But what sold me was the hole that connected the hydration chamber to the other area where I'd have my pump. The hole is where my tube would go. Not only that but it also had a Velcro strap at the top to hang my TPN feeding bag so it doesn't drop down to the bottom of the bag. These two features are rarely found in any backpack and I know also the hole connecting the two backpack compartments does not exist in any backpack I've ever seen before. Those features are typically ones feeders have to do themselves. I'm not very handy and I was determined to find a backpack that required no adjustments on my part to make it work. This backpack, the one I linked above, is the only one I found. I got it in black though. Like I said, it has to look good too! Here are some pictures I took of mine: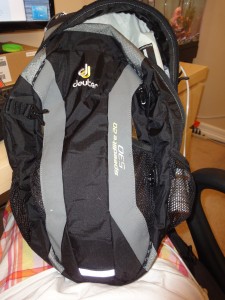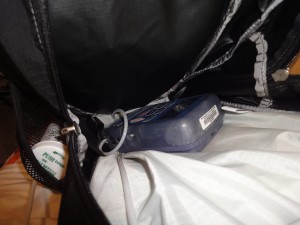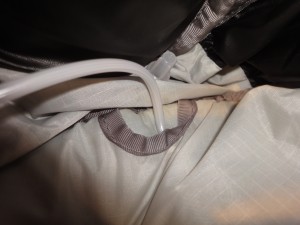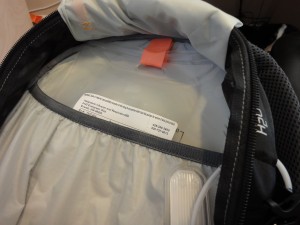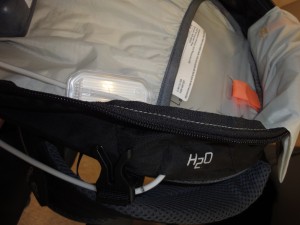 Stats Breakdown:
Weight: 530g (1/3 lbs)
Volume: 20L (1220 cubic inches)
Size: 19 / 10 / 7.1 (H x W x D) inches
48 / 26 / 18 (H x W x D) cm
Material: HexLite 210 / Deuter-Ripstop 210
* Removable waist and chest belts *
What's in my Backpack?
I carry with me:
A vial of zofran
Syringes with needles
Flushes (both saline and heparin)
Imitrex IM
Keys, sunglasses (for the random day the sun comes out), wallet, phone
Bag of dog treats when my service dog is out with me
iPad
Those are just my everyday things. Of course I adjust or add to the list depending on where I'm going or how long I'll be away. That list will always include my TPN bag (2L of fluid) and my brick of a pump. Everyone is different but this bag is sure to benefit everyone, not just TPN feeders, but I'm pretty sure it will work for HEN feeders as well. The system is the same. I've tried and looked at many others. This is my bag and I highly recommend it!