Sorry, again, for not updating. At the end of December, I was hit with another disorder that sort of the last straw. I completely broke down. I went through numerous tests after realizing in the hospital, I was not urinating as often as I should nor did I have ANY sensation. When I had a follow up with my PCP, I mentioned this to her. She immediately put me in touch with a urologist and within days I was subjected to rather embarrassing tests that stripped me clean of any sense of dignity I had left. The result of all my testing (as a whole it is called urodynamics), I was diagnosed with a neurogenic bladder. This combined with my intestines slowing down even further, requiring the most powerful of laxatives, GoLytely, to be pumped through a nasal tube fed into my duodenum.
I became very upset and felt that everything in my body was weakening or stopped altogether. I was not in a place to blog. So that is why it has taken me so long to write.
But, I'm back now. I was just released from the hospital 4 days ago. I was admitted from the ER on 1/4/12 for a suspected portacath infection. I have never had issues with my port until now. Days prior to the admission, I noticed my port had issues flushing. My nurse even said it was requiring more pressure to flush than usual. It stopped drawing blood a few times that month, requiring me to go to the ER and have them re-access and TPA the line. I wasn't at all suprised they would think infection but when the ER remembered I had a MRSA infection not to long before, they didn't want to have anything to do with me and rushed me out of the ER (they have a free standing ER with doctor offices above) to the Swedish Issaquah Hospital for further testing and antibiotics. I said that correctly, Swedish Issaquah Hospital. I gave them a second chance. If you do not remember what happened last time, read the previous post. I was totally on them for everything, this time. Making sure I stood up for myself and get what I needed to survive a potential septic attack. I was put on contact restrictions, meaning everyone coming in had to wash their hands, put on gloves and then put on a yellow gown. This isolation was in effect for the entire 10 days I stayed.
Since they couldn't use my port, I had to be given everything through a peripheral IV line. Those, for me, don't work very well. The first IV line was placed by a nurse at the ER; they wanted to get me on antibiotics ASAP, so the IV would let them give me a dose before the ambulance arrived. *Sigh*
The nurse that I had made everything worse. I never had issues with their staff at the Redmond ER but here I was, striking out again. My nurse had tremors, and they were very bad. I sort of felt bad for her because I, myself, suffer from slightly shaky hands. But when she made too many mistakes because of her shaking hands, I began to get irritated. So many people would stop by and ask if she needed help (because the process was taking WAY too long due to her tremors – and they knew it too which is probably why they so frequently asked if she needed help) and she'd yell back at them, "I'm FINE!" So she manages to get a peripheral line in on the first shot with minimal discomfort. However, she did not secure the line before she took both hands off the needle to get the dressing and tape and with that, the needle came out. She told me that it was OK and she'd just use the same hole. Um, yeah – if anyone tells you that, don't let them touch you. She did go through the same hole but of course the vein is bad now and she just dug and dug around trying to get the needle into my vein. I was practically crying in pain when she finally got it in. This was all after she clotted my port. The port was drawing blood and they needed that blood for a culture. It gave enough for the culture and then while drawing regular labs, it stopped. My only guess is that her tremor hands pulled the needle out just enough to look like it is in when it is not. So she had to draw from another vein. With tremor hands, it was another painful process and one that went so incredibly slow. They actually told the ambulance to hang back 30 minutes because she wasn't nearly close to being done. *Rage*
I have never been so happy to see an ambulance stretcher in all my life. It meant no more sticks with the lady who had tremors, no more unnecessary pain! I got to ride again, in the ambulance. The guy back there was fun. We talked about all the old-school stuff we played with as kids that kids today would not be able to correctly identify. It was raining and the roads were jammed; it was a loooong trip to the hospital. But I was doing relatively fine. I was nervous, however, about how I'd be treated this time versus the last time. I got put on a different floor in a different ward with new people (for the most part). They were amazing. They didn't take hours to check in on me when I asked for someone and I got my all the medicines I needed when I needed them (things like my depression medication and sleeping medications are on a rather strict schedule and cannot be missed).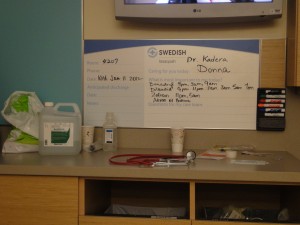 Because I was in for an infection and not an ileus, I was allowed proper pain medication to help control it. I had that come every two hours with benedryl every 6 with my zofran. It worked very well. The nurses were even nice enough to help me with showers.
Ellie and my husband were constant visitors. He brought stuff to my room to help make it happier. All the nurses would come by just to see it and I was said to have the "coolest room." I won't lie, it was cool. Just because you are on contact precautions, doesn't mean everything has to be plain.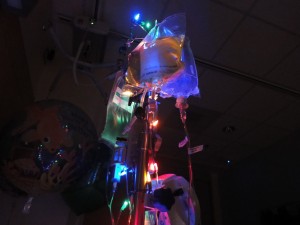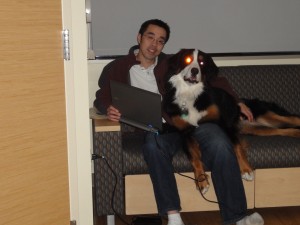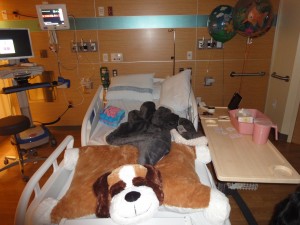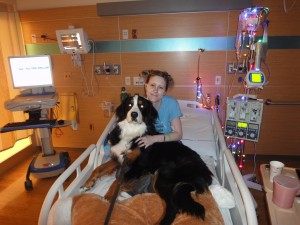 A few days after I was admitted, they removed my port. I was so sad to see it go. They removed it before the cultures came back because of the intense pain I was describing. They didn't want to take any chances and really, I didn't want them to either. A few days after that I got a PICC line so I could run my TPN. Well that was another adventure.
The lady came in to do my PICC bedside. I was not exactly thrilled about this idea. I've always had them placed in IR. But OK, I trusted her. Once she placed it she asked me how I felt. I told her I heard something weird and now my neck hurts. I think your line is fine, let me get the X-ray people. Sure enough, the line went straight up my jugular. Not in position! So she pulls it back out and tries again. "Did you hear anything this time?" she asked. No, but now my shoulder that has been unbelievably painful is now in more pain. I told her it wasn't in place, I know, I can tell. Again with the X-ray and again, not in place. She asked me if we could try again and if not then she'd pull it out to make a midline, and that would allow higher nutrition fluids to be given instead of the regular IV stuff. I'm like no, just do the midline now and I'll see IR on Monday. Monday was a few days away but I didn't want to be put through that all over again. She does the midline and later the nurse comes in to draw blood and bam, no blood is coming out so now it is completely useless.
When I finally got up to IR, they just used the same line and was able to put it into my SVC (superior vena cava). Took them like 3 minutes. Now I have a PICC line again.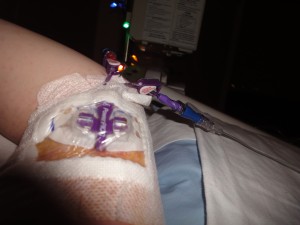 The only thing I like about it is that it has two lumen. (GO –> HERE <-- for excellent information on Central Lines or CL) Otherwise the downside is that it gets pulled and yanked on by tons of things like chairs, doors, couches and my dog, Ellie. My new port will be placed on the 23rd of January. My ID (infectious disease) doctor said I needed to wait a week after finishing antibiotics before they could put in a new CL. The interventional radiologist decided, along with my GI doctor that a port would be better than a Hickman. My GI has seen Ellie and knows that anything that dangles has the potential of being pulled out. With a port, you don't lose access, you just need a new needle, should it become dislodged, as it has in the past. I was kept until I was able to control pain on liquid medicine instead of IV. They never did grow anything from the cultures so they have no idea where my shoulder pain came from. It isn't completely better and I'll need to go to physical therapy for it, but it definitely isn't as sore as it was while in the hospital. I'm glad I gave them another chance. I wouldn't have met all the nice doctors and nurses if I went to the one down in Seattle. The Swedish Hospital in Issaquah is now my hospital of choice! And to top it off, they make the best vanilla milkshakes in the whole entire world. Not joking.