Well – some of you know of the interesting string of events that I experienced over the past few weeks from Facebook status updates, but even Facebook was slightly censored. It all started out one night with an extremely bloated belly and lack of any bowel movement for the past few days. My husband had made the comment a few days before that I was bloated. Gotta hand it to the guy to have the guts to say something like that to his wife before even she noticed. Taking his observation for what it was worth, coupled with my own, I made a night trip to the ER at Evergreen. Mistake #1.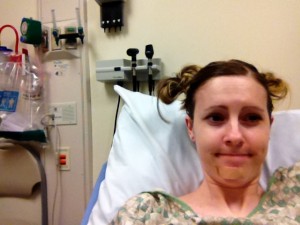 How NOT to be treated in the ER
I arrive at the ER with my husband and quickly get a room because they were not particularly busy that night. Bonus. I hate crowded ERs because those with chronic pain and chronic illnesses like us, always get the backseat when it comes to placing patients in rooms. Even the guy who drove HIMSELF to the ER, not doubling over in pain or wearing sunglasses or a washcloth on his head – complaining of a migraine – gets in over me, crying in pain, holding a throw-up bag with an extremely fast heart rate. Sure, let him go – he looks to be in a much more severe situation that cannot wait. —-Anyway—- we get a room as usual and I prepare for the normal battery of tests I thought were required for every ER admit. You know, bloodwork, x-rays, a physical exam… Nope, according to my attending, all those are for people in real pain with real issues. He walks in, with his face in my chart, sees the number of times I have been in the ER (yes it has been a lot but that's because you morons can't figure out how to control my pain or cure my disease! – hence my need for a pain doctor who he should have called but no, again, that's for real patients) and he also sees my list of medications which contains ONE active narcotic given to me by my PAIN DOCTOR – Nucynta.
Side note: After the first two weeks of hell (mostly mental as it seems to screw around with your emotions and state of mind), it works wonderfully. No complaints after I've been on it for about 2 months now.
He takes his nose out of my chart and says simply this:
Go home and take a bottle of magnesium citrate. You are most likely constipated from all the narcotics you are on. Otherwise, you're fine
Um..that is about the point I started crying in frustration and absolute rage. He didn't even LOOK at me. Had he simply looked at my belly and listened for bowel sounds he would have noticed, without an x-ray, that something was wrong. I asked for an x-ray after he left because I was in absolute shock with my mouth open and paralyzed body. The nurse rudely says, "oh no, he won't do that." She hands me the bottle of magnesium citrate and I'm like – sorry, I don't want it. If you have been to ERs enough you know what actions show the most rudeness back. Sorry but if you want to be rude to me, don't expect me to take it. Not this late in the game. She gives me an ugly look and then hands me the typical discharge papers describing what constipation is and how to take care of it – proudly printed from the Internet. I said to her – take it back and shred it for me please, I won't be taking those home either. Another insult. I'm boxing with both hands here. She gave another evil stare as she says, "well you will have to do that after I leave," and she walks out with my rejected bottle of magnesium citrate. I promptly throw away their packet of useless information and advice. I've been dealing with this too long for there to be ANY information in there that I would actually benefit from. That and I knew it wasn't a simple case of "constipation."
How you SHOULD be treated in an ER
I call up Dr. Patterson in tears asking him what to do. I knew something was wrong. He told me to go to the ER he is associated with and to have them order x-rays. He must have called them or something because that is the number 1 first thing they did. If he didn't call beforehand, than A+ to Swedish ERs. Blood was taken, of course, fluids were started and I might have gotten some IV toradol for my back that is infected, but they don't know it yet. We wait for the results. I'm exhausted by this point, the emotional roller coaster I was on was enough to knock me out but the physical pain and discomfort kept me awake. How nice. The x-rays came back in record time and they sat us both down together (LOVE my husband for being there as he is often my advocate when doctors fail to listen or believe in me) and explained that I had an ileus of both the small and large intestine. This is not common. My entire digestive tract was frozen solid, paralyzed, not moving. It was a pretty serious situation based on how quickly things moved after that. They knew I had to be admitted to a hospital as the ER I went to is just an ER (it also has doctor offices on the floors above). They asked which hospital I would like to be transferred to and Evergreen was a possibility. Ha, no thank you – I will stay within Swedish as my GI is there and they don't screw you over when you come in. *note, the ileus was not caught by the ER doctor in Evergreen why? Oh that's right, he didn't listen to me, believe me or even do a simple x-ray or physical exam* I got transported to the Swedish Hospital in Issaquah as it is brand new – I'm talking they just opened the patient rooms a few weeks before and I was pretty sure I was the first one in the hospital to even use their pumps. To further ready my departure to the new hospital, they placed an NG tube. Not the normal NG feeding tube. No, this one was for suction and was about as thick as your thumb. They placed with with no sedation and as they advanced this HUGE tube down my nose, I hear it cracking all the way through. Oh it was horrible. Not another tube in the nose!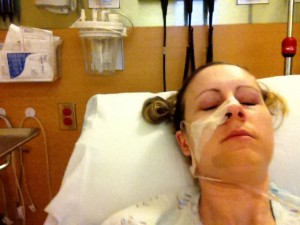 Throat, ear and mouth (jaw) pain, incoming. They didn't run anything – they just set it up, including placement of a new PIV for contrast. They refused to use my port. They didn't want to change out the needle for the kind that handle the contrast. Oh well, like everything else – I let them do their thing until they start screwing up and then I become devil patient.
I slept/rested in my room with my husband as we watched TV until the ambulance arrived to take me back. Victor went home, first, to take care of the dogs and feed them and I told him, since Issaquah is no short drive, he was welcome to stay home since it was so late already (after midnight, easy). Looking back, I probably should have had him stay. I've learned lots of things after these few hospital stays which I will sum up at the end of my novel of a post. Sorry =(
The Hospital Stay: Part I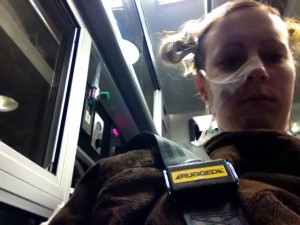 The ride over to the new hospital was my first time in an ambulance. Not going to lie, I always wanted to ride one. Little did I know I'd be right back in one within the next week. Transition from the ambulance to my room was smooth. The room was beautiful, all the rooms there are single and have glass doors that slide open instead of the regular heavy door that opens without you knowing who is exactly coming in to hurt you.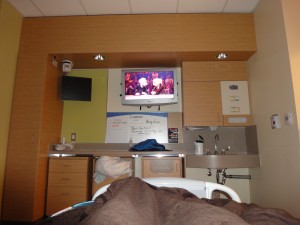 A decorative curtain went all the way across that was usually open just enough to annoy me. What is it with nurses and doctors leaving doors and curtains wide open after they leave? Is that in their job description or do they think that much of themselves to NOT close the door after leaving? Their loss because each time they did, I hit the nurse call button just for them to close my doors (including the bathroom one, which I can't on my own, and once in bed, I can't get back out without help. No body needs to see the bathroom. Close the doors, people!
So I get hooked up to IV and TPN feeds (run over 19 hours) and the NG was on 24/7 suction. I'm waiting for my GI doc to e-mail me the x-ray that prompted this long chain of events so I can post it. Out of his mouth, "your first x-ray (I had many) was quite impressive." Awesome in a not so awesome way. So I had my IV and my TPN but no medicine. It is by now like 1am. They have a list of my meds, none of which I received without asking. And even when I did ask – I wouldn't get them for about four hours. Constantly clicking the nurse call button and I'd hear, "your nurse is with another patient, she should be done soon" or "your nurse is working down the hall of patients, she should be to you soon." Any excuse to not get me my medicine, I heard it. I shouldn't feel bad for asking for my medicine. I don't care if a patient down the hall can't keep her moans to herself. I still had the temporary spinal cord stimulator in, and a quickly growing infection. Take it like a man, sister, or I'm coming down there and giving you a real reason to moan and grown throughout the halls of the hospital. My pain was a 10. I NEVER give anything a ten, but this pain deserved it. But when you have an ileus (in my case – two), you aren't allowed narcotic pain meds and the non-narcotic pain cannot bring down level 10 pain. It is like coming out of a major surgery and not having the proper medications available. Yes I get my gut isn't moving but you know what? It hasn't been moving or when it did, it did it sloooowly, I don't care about it anymore. Take away my pain please!
I did have two great nurses though. They were on top of anything I needed and when I told one nurse I was at a ten when asked, she was shocked and said, "I'm not happy with that, let me see if I can get you something else." I also had HORRIBLE nurses, one I had the displeasure of having twice! She was the "special" one. When I came home to talk to my home care nurse about what she did, she was in absolute shock – completely speechless. My nurse put Imitrex IM (a SHOT) into my IV. I was lucky to survive that. My head was going to pop. I was like, did you just put that through my IV. Yeah, she says. Yelling now – Imitrex is NOT for IV!!!
I went through the whole week living off toradol and tylenol IV. They were never scheduled correctly so I'd get one after the other and then not get anything for six. Not too bright there fellas. I was also not given my normal medication. With this being my first ileus, I didn't know what was normal and what wasn't. Maybe they kept my other meds out to see if it accelerated the healing of my ileus. WRONG. After they messed up with my pain meds and not enough Ativan (again, it is in my charts people!) I asked for IV Benedryl to help calm me and let me sleep. Nope, nothing doing. So of course I'm up all night and manage to get into a deep sleep as my attending doctor crashes in my room, flipping every light switch on, that was available (I had the light blocker shade down to keep it dark (for my migraine's sake). She shakes me out of my, what could have been, amazing sleep with her LOUD voice of pointless questions, spoken at the slowest pace ever. I'm sorry doctor, surely you understand you just woke me up in the worst possible way, I'm still trying to even understand where I am and what I'm doing, I am not going to be answering your questions. Oh, I am also not deaf nor mentally slow. Stop talking to me as if I was, kthx.
My GI doctor makes it in on Monday (I was there since Saturday night) and he asks are they giving you anything for pain? Um…NO! Nothing. He's ah well let's get that fixed. He didn't offer much but he did what he could without further messing up my intestines. Yes, that's right – I was without ANY pain medication for a few days with a MRSA infected incision just milimeters away from my spinal cord and a non-functioning gut that just kept expanding as air kept getting stuck.
By now they believe me about my back pain and how I believe it is infected because it soaked straight through my gauze dressing and onto my bed (that never got changed…Ellie sheds, enough said). No one in that hospital has even seen one before so they basically denied any responsibility for it or its care. It would be 2 more days of hell before they finally decide to take it out. It was the most painful thing to have in, due to the infection.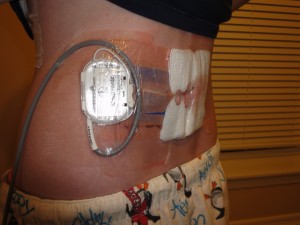 Even from just looking at it bandaged up you could tell it was infected. I, myself, had a temperature of 103 and my back, where the stimulator is taped, was so hot my doctor asked if I had been using a heating pad. It was also very swollen. So their pain "doctor," the word doctor used very loosely here, came in, ripped off the tape holding down my machine and then starts to pull it out (my leads were long as relief only came from them people placed up near the cervical spine). I asked if he would at least wait for me to get my nurse to push some toradol or something. He laughs, this won't hurt – it's like getting stitches out. But it is infected, I said. He says, "no no no, it isn't infected." Yes yes yes, it is infected and hurts worse than anything. Is he listening as I say this…no. I should have stood up to him. Let that be a reminder for all of you, do not let nurses or doctors boss you around. Don't let them do things without you knowing exactly what it is and you come first. I should have refused to turn over on my stomach until my nurse came with pain medicine, but I didn't. I was lucky that one of my best friends was there to help comfort me as he pulled out the long leads. She also took pictures. Lol, I saw her whip out her iPhone and asked if she was taking pictures of this!? She nodded and I was like, well use my real camera then!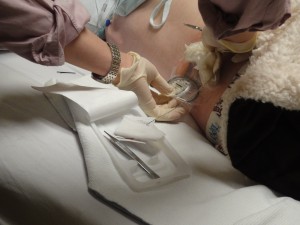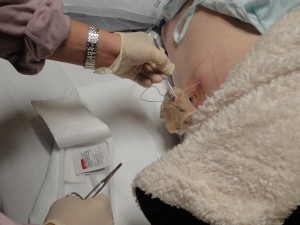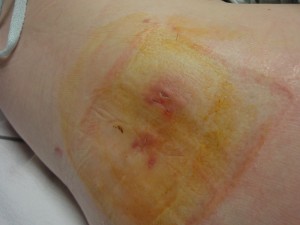 She was such a trooper having to watch that happen and to give me so much comfort. Well, anyway – it was out and I will say that most of my pain was gone and I was finally resting. Then jerk hospitalist comes walking in to look at it. He asks me to turn over so he can "look" at it and I politely refused until he stopped asking and started demanding. So I rolled over in complete agony and he starts poking around. Oh man, so much for feeling any better. Way to mix the pot and stir things up again, Mr. hospitalist. You rock!
They did culture it but it would be a few days before they'd know exactly what it was. They started me on two types of antibiotics and at the end stuck with one, Vancomycin. Days go by and my GI doctor comes to visit again. He sees I still have the NG tube in and insists on removing it. He's pretty strong because I held it in as best as I could but out it came. Hurts just as bad going in as it did coming out.
With the NG tube out and antibiotics 3 days in, my hospitalist, despite not fixing my pain and not accomplishing any goals due to this pain (standing without support, walking, etc.). I was completely against discharge. I called up my GI again – sorry for calling you all those times, doctor, but you are just THAT awesome – and he said that I could go home any day I feel comfortable with. Well, today wasn't that day and after a lot of arguing and such, I still ended up being discharged. I had asked for a social worker as soon as I woke up that morning because I felt I was not treated as I should have been treated. She did end up making it right before my discharge papers were made. She was pissed at how I was handled, especially the medication part. I said that I understood if they were short staffed (definitely not the case I later learned) or their nurses just can't juggle this many patients, but I still do not accept that as any sort of excuse to neglect me. The social worker said that next time I go somewhere to be admitted or even at the ER, find a social worker to be your medical advocate. They can help you and will do anything within their power to keep the doctors and nurses on their toes.
Back Home…it was nice
I get home and my homecare nurse comes by with more TPN (as I was in the hospital when my normal deliver would go out), supplies and my new IV medication – Vancomycin.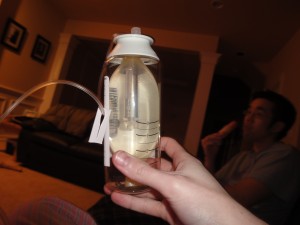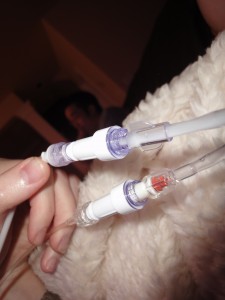 I showed her a rash I didn't find until washing up before I got wheeled out of the hospital. I didn't think anything of it until I mentioned the rash to her who then called my doctors. They all were aware of me and the infection I had (apparently when something bad happens to regulars, they talk to other people about it) and said to take benedryl an hour before taking the Vanco. If the rash didn't improve (be gone is what it should have been) by morning, I was to come back in. And as a good girl, that's what I did, but not Evergreen this time – I'm still shocked they sent me away with the ileus and MRSA infection.
ER again
So I'm in the exam room and they want to know why I'm there. This was going to take awhile. I first started off with the rash and how I was told to come back for that. I then showed them my back, letting them culture it and asked for it to be re-bandaged. I was also rolled in for another CT and x-ray. Ileus looked better, no NG tube. However, the results from the culture taken at the other hospital location came in just an hour before I came to the ER. My AMAZING attending actually found it and came in to tell me the not-so-good news. I sort of figured it out when my husband and father came back from lunch dressed in gowns; I had MRSA.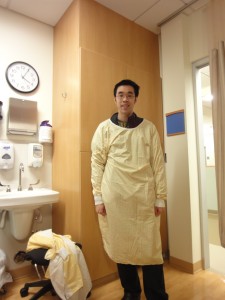 He talked with the hospitalist that released me about my rash and he STILL manages to be a jerk saying, "there really isn't a reason to bring her back in, as it is probably not even related to the Vanco, but we'll accept her if you feel she needs admitting." So he goes and calls the infection disease (ID) doctor and he told them to transport me to his hospital immediately. Fever and resting HR of 140 on top of everything else, they once again, readied me for transport. This time it would be longer but the attitude of my ER doctor was awesome. He wanted to step back and have a real plan. So that's what we did. Ambulance came and they let my dad come too. I slept most of the 45 minute drive (thank you traffic).
Hospital Stay: Part II
This one, I was told, would be short. ID looked at my wound and then changed my vanco to IV daptomycin. And guess what happened? A few days after the vanco got out, my rash went away! Amazing how that works out. I also was surprised by the service. My attending doc had ALL my medicines (regular and IV special ordered as well as TPN) already ordered, before she even came in to see me! They were all so nice and had everything under control. I was relaxed for the first time. And since my ileus was resolved, they allowed me pain medication strong enough to give me one night pain-free. I will always remember that feeling and hope to have it again someday, even if it is just for one night. But yes, this was a short stay. My ID doc came in the morning to check the infection and to see if anything new popped up and said I could go home that day! I felt so much better going home that day. They made me feel comfortable with myself. Thank you Swedish Hospital Medical Center: First Hill! You guys rock, keep it up.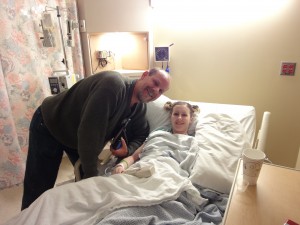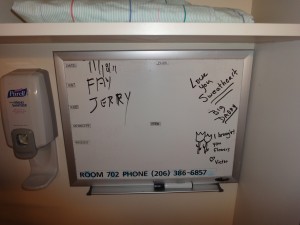 Wrapping it up…whew
On the same day I was discharged for the second time, my father had to leave. He had arrived the day I was discharged the first time. Overall I learned:
Stand up for yourself as you know more about your body than anyone. Don't be bullied by nurses and doctors.
Remember to take some responsibility for everything the doctors and nurses do, refer to my Imitrex IM situation, they make mistakes too
Get a Hospital Social Worker if you know you'll be in the hosptial for a few days. They will help be your medical advocate and keep doctors on their toes in order to make your stay run as smoothly as possible.
Trust yourself. If you feel like something more is wrong then keep looking for someone who will listen. I had to go to two different ERs before someone would listen and DO something about it.
Still try to smile and enjoy being alive =)

Anyway – that is why I have been in and out of the Internet. The lead incisions are still swollen and there is a slight lump that I must have another ID look at so that I can be cleared for surgery. Yes, I have been approved for the permanent spinal cord neurostimulator. Everything on their end is ready, I just need to pass the ID test. I'm excited. In case I didn't talk about it before, three days before I was admitted, I had a spinal cord neurostimulator placed temporarily in my back. I control it with a remote, unlike the gastric one which requires a doctor to change it, because simply standing up can move the leads on your spinal cord, changing the frequency and voltage. Those are the two things you can move up or down. I think I'm his first patient to ever have one placed for generalized abdominal pain but as soon as he put it in the right spot, I could tell a major difference. It was great. My ID appointment is on Tuesday. Because of all that has happened in the last few weeks, I may have to push my surgery date until after the holidays. As we will have family. Not something you want to be bringing them to – your hospital! Nor do I want to be in the hospital on Christmas either – did that last year. Not fun. But it is still coming up soon. If I hold off until the end of the year, I'll have more time to recover and have that recovery time close to my doctor should anything go wrong.

Time for bed. Happy Tummy Days to everyone!